PROCESS
Electrical & Control Lighting System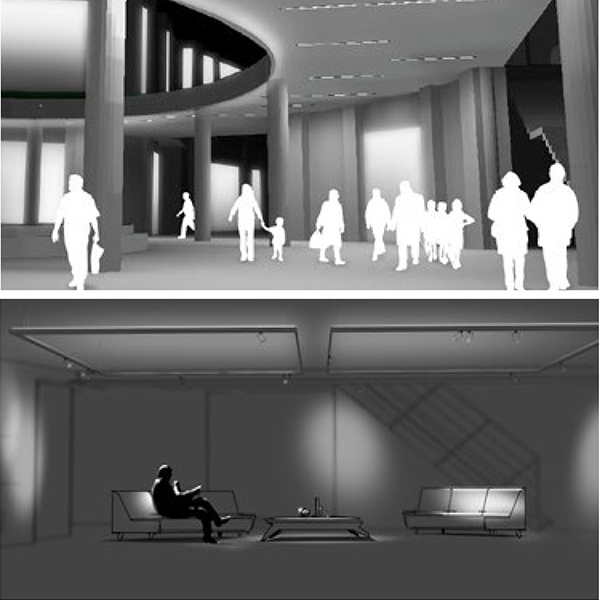 Design Stage
Definition of scopes

Modelling and simulation for electrical & natural lighting evaluation

Energy and costs studies
Documentation Stage
Lighting Control Diagrams

Lighting Design plans

Technical specifications
Implementation Stage
Calculations reports and operational manuals

Light fixture aiming, light levels and energy consumption verification

Control system programming
What we do
At
Hugo Light Design
, we use light to support architectural objectives for buildings and spaces, helping to create interior and exterior environments that perform to precisely defined criteria. We work in many different contexts specialising in residential projects but also including retail schemes, exhibitions, hotels & leisure facilities, landscapes and gardens, historic buildings and conservation. Developing integral lighting solutions trough a platform of services that integrate electrical lighting, natural lighting and lighting controls is an essential part of coming up with creative designs. Our designs are integral to the experience of each project. They articulate space and objects and display texture and colour. With their capacity to add accent and mood, they enrich rooms and buildings, streets and public spaces.
Lighting Considerations
Sustainability
Sustainable design starts with establishing the incentives and constraints of each project, and by setting challenging targets for building construction and performance. Recognising the importance of energy efficient lighting to long-term building performance, we have developed our own sustainability objectives, which stipulate the use of optimum efficiency lamps, controls and luminaires. A continual process of appraisal ensures we keep abreast of products and techniques worldwide. We aim to lead our industry in this. HLD systems contribute to overall sustainable practice by being flexible and easy to use and maintain. After hand-over, our support to building users includes advice on settings, configurations and day to day operation.
Partnerships
Hugo Light Design brings an informed and impartial approach to the production of lit spaces and surfaces. We work closely with our clients and fellow members of the design and construction team and understand their varied objectives. We ensure both lighting quality and the integration of our schemes into structure, finishes and overall building services design. Our partnership philosophy is based on collaboration and communication and this results in long-lasting associations. We can contribute to every stage of a project from performance specification to implementation and commissioning. Our creativity and expertise in technical delivery are key elements of the project's combined resources. Our clients and key partners include:
CPK Interiors
Curradine Wedding Barns
David Collins Studio
John Field Studio
James Gorst Architects
Make Architects
Plincke Landscapes
USH Architects
Dan Brill Architects
St George
Taylor Howse Design
Knight Harwood
Tom Ford International
Nicola Harding Interior Design
Jaqueline Willers Interior Design
Ice Cube Design
FSC Consulting
Maximus LTD
Coast Developments LTD
Inside And Out Design
Architonics
Greg and Lucy Rusedski
Martin Ashley Architects
Mc Vitty LTD
Snell David Architects
Mr Nicholas Coleridge
Bennett Design
Todhunter Earle Interiors
Morton Designs
P & N Decorations
Caybec UK Services LTD
RT Harris and Son
Annabel Elliott LTD
Julia Blunt Interiors
Sloane Management
Dolby Investments
Haberdashery London
and numerous private clients….